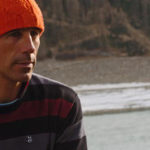 About us: Riky and Elena
A short story of Riky Felderer and Elena Congia.
"Riky is a very well-known outdoor photographer, and has worked since 1995 taking climbing, mountaineering, trailrunning, biking, skiing and snowboarding photos. In addition he describes himself as an active climber and explorer." (see this Italian tv interview, unfortunately without subtitles…)
From his base in Milan (Riky was born in Monza), he has taken part in several expeditions to Greenland and Baffin Island to climb new routes with famous mountaineers such as Hansjorg Auer, Iker Pou and Matteo della Bordella.
See Matteo's account of opening new routes in Ogliastra were Matteo says of Riky "now he is an undiscussed point of reference in the Italian outdoor photography panorama and collaborates for shooting and filming with the best companies worldwide".
Over the last couple of years he has been very active on Sardinia, with several photo shootings, two films and one full-length film dedicated to climbing in Ogliastra. Left, the video produced for La Sportiva "Sardinia Bloc Scouting-Teaser", right, the video "HYKNUSA – The Wild Isle – Multipitch in the Med".
Barbara Zangler, Jacopo Larcher, James Pearson and Caroline Ciavaldini, whom I also count as friends, are some other stunning climbers I had the fortune to work and travel with. When I wasn't busy travelling round the globe taking action photos and videos of athletes for the outdoor brands, I dedicated myself to bolting and development projects. For instance, together with my enthusiastic friends, I helped create and develop the trad climbing areas of Cadarese and Esigo (Val d'Ossola, Piemonte). I speak three and a half languages: Italian, English, German and a bit of French and Spanish (that makes a half…).
In 2003 after an accident he was "forced" to take it easy and during a holiday on Sardinia I unfortunately 😉 met Elena, who was born in San Gavino in the Campidano (SW of the island) and who is a school teacher.
Elena moved to Milan where she lived with me until 2016, when we sold our apartment to be able to buy the Lemon House. Since 2003 we spent our winter holiday in Ogliastra and we started to know the area very well: we have climbed 20% of what's climbable (a life won't be enough!), have put up new climbs and now will have the time to start doing oher sports again, which lack of time had forced them to give up. Running the Lemon House enables me (aged 46) to travel less and take forward the project started by Peter & Anne, which corresponds perfectly to my and Elena's view of the world.
Unfortunately sometimes our view of the world has to face reality, where you might fall during a road bike tour…
Elena
In 2003 after an accident Riky was "forced" to take it easy and during a holiday on Sardinia I unfortunately 😉 met Elena, who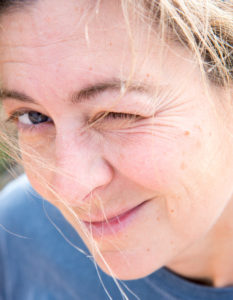 was born in San Gavino in the Campidano (SW of the island) and who is a school teacher. Elena moved to Milan where she lived with me until 2016, when we sold our apartment to be able to buy the Lemon House. Since 2003 we spent our winter holiday in Ogliastra and we started to know the area very well: we have climbed 20% of what's climbable (a life won't be enough!), have put up new climbs and now will have the time to start doing oher sports again, which lack of time had forced them to give up. Running the Lemon House enables me (aged 46) to travel less and take forward the project started by Peter & Anne, which corresponds perfectly to my and Elena's view of the world